This article is about a real-world person, place, or thing. For more information, see the corresponding Wikipedia page here.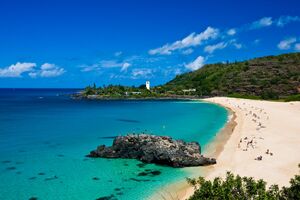 Waimea Bay is a beach in Hawaii, United States, located on the island of Oahu. The bay is a popular tourist destination, best known as a hot spot for surfing. The bay was visited by the crew of Tomas explorer James Cook sometime after his death.
The Tomas branch of the Cahill family has a stronghold at Waimea Bay. Madrigal Grace Cahill may have also discovered the stronghold, as a Lucian intelligence report noted that Grace had gone surfing near Oahu.