This article is about a real-world person, place, or thing. For more information, see the corresponding Wikipedia page here.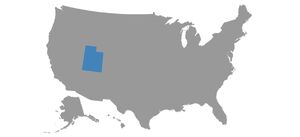 Utah is a state in the western United States of America. Its capital city, Salt Lake City, was a stronghold for the Tomas branch when branch leaders selected the city to host the 2002 Winter Olympics. It is currently unknown if Tomas agents are still active in Salt Lake City.
Another Tomas stronghold, Monument Valley, lies partially within Utah.