About Me
Hello 39 Clues Fans! My name is The Awesome X!, and I am a HUGE fan of The 39 Clues. I joined this wiki on December 4, 2010, and ever since I have been editing away like crazy!

I am an Ekaterina, and a Madrigal as well, however I am a double-agent in all of the other branches, as I have accounts of each branch on The 39 Clues Website (Shh...)! The only account that I use is my original Ekat account, however if I want to read the other branch's archives I'll log in as a different user...:P Even before I created an account on the website, I already knew I was an Ekat. Funny thing is though, I have qualities of all four branches, like the creativity of the Janus or the determination of the Tomas. However, I have more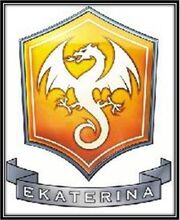 Ekat in me than the rest...

I have collected all 39 Clues.
I am on the Saladin League on this wiki.

My hobbies and things I enjoy doing are: reading, biking, parkour, constructing, doing something creative, writing fanfictions and my own personal unique stories, making movies and films, editing this wiki, studying facts and learning new things every day, reading about mythologies (like the Greeks, Egyptian, Norse, and Central American), using the computer, etc...the list goes on and on...

I am a perfectionist.

I am #3 on this wiki, and have rollback and sysop privelages, and am an Administrator and Bureaucrat. So if you need any help on this wiki or need any assistance, feel free to drop by and leave a message on my talk page!

I like making templates.

I have read all of the Series 1 books , Vespers Rising , and have both The Black Book of Buried Secrets and the Agent Handbook.

I am on the Cahill Winners Wiki Team.

I created the current logo for this wiki.

I am a Christian.
My Agent Card
My Agent Card is totally sweet, and is an Ekaterina Card. The code is: P3DR6J93XP
Polls