If you were looking for the book series, please go here.
The 39 Clues: The Movie is the upcoming movie for The 39 Clues.
Steven Spielberg acquired film rights to the series in June 2008. Spielberg and Scholastic Media president Deborah Forte will produce the series, while Brett Ratner expressed interest in directing the first film. Screenwriter Jeff Nathanson was hired to write the script in September 2008. In May 2012, Shawn Levy acquired the rights to direct the movie. The movie rights were taken by Universal in August 2013. The film had been slated for release in early 2016, but the film was scrapped and it never entered production.
It sadly didn't seem possible to be completed ever.
Progress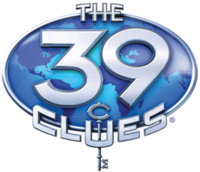 There are 6 stages in making a movie. Here are the stages believed to be completed:
Concept
Development
Pre-Production
Production
Post-Production
Complete
Sky Blue:Ongoing
Red: Incomplete
Green: Completed
Credits
Position
Name
Status
Project Creators

Stacy Snider
Steven Spielberg 

Confirmed
Director
Shawn Levy
Confirmed
Writer
Jeff Nathanson
Confirmed
Producers

Deborah Forte (Pres. Of Scholastic)
Steven Spielberg

Confirmed
Distributors

Touchstone Pictures (International) DreamWorks Studios

Confirmed

Studio Executive

Holly Bario
Chloe Dan

Unconfirmed
Production Executive
Jess Seigler
Unconfirmed