This article is about a real-world person, place, or thing. For more information, see the corresponding Wikipedia page here.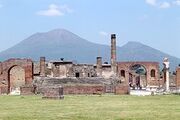 Pompeii is a town inItaly near the volcano Vesuvius. Pompeii is mentioned several times in the Cahills vs. Vespers series. It is mentioned in Grace's notebook, where it says 'V 79 Pliny described first test' This is referring to the eruption of Vesuvius being caused by a test of the Doomsday Device. It is also on the list of cities that William McIntyre stuffed in his shoe. In The Dead of Night, Hamilton, Jonah and Erasmus go there to look for clues. It is a possible stronghold for the Vespers or Guardians.
Community content is available under
CC-BY-SA
unless otherwise noted.