This article is about a real-world person, place, or thing. For more information, see the corresponding Wikipedia page here.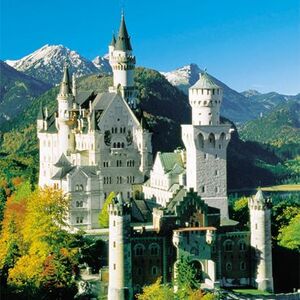 King Ludwig II's Neuschwanstein Castle included bedrooms, concert halls and even an artificial waterfall. Cahills always knew Ludwig was guarding a Clue inside one of his palaces, but not one branch except the Janus found his hiding place, even after his death. The Clue remained hidden for centuries in the grottoes of Neuschwanstein. It also is showed in A King's Ransom.
The Clue was Pearl.
Cards
Neuschwanstein Castle is featured in Card 84.
Images