This article is about a real-world person, place, or thing. For more information, see the corresponding Wikipedia page here.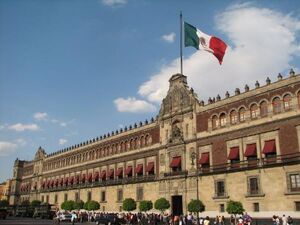 The National Palace in Mexico City, Mexico is the seat of the federal executive of the Mexican government. The building has been use since the days of the Aztec empire and was established as the central site of executive power after Mexico gained its independence in 1867, when the Mexican Empire, led by Janus emperor Maximilian I, was overthrown.
The Palace has long been used as a stronghold by the Tomas branch, who arranged Maximilian's execution. The new Mexican president, Benito Juarez, a Tomas agent, moved Maximilian's possessions, which included a Clue, Platinum, to the Palace. Since then, the Palace has been under 24-hour Tomas surveillance to protect the Clue. A Janus agent, Ambrose Bierce, is rumored to have disappeared while searching for the Clue hidden there.
Community content is available under
CC-BY-SA
unless otherwise noted.