This article is about a real-world person, place, or thing. For more information, see the corresponding Wikipedia page here.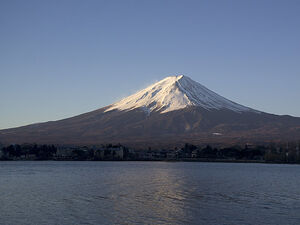 Mount Fuji is a mountain in Japan. It is the nation's highest point, standing at 12,388 feet tall. It also holds great cultural significance to the locals. A Tomas stronghold is also hidden within the mountain. Mt. Fuji appears in Card 127: Mt. Fuji.
Stronghold
Some of the features within the stronghold include:
Surveillance Center
Indoor skiing slope
Basketball courts
Rugby pitches
Soccer fields
Appearances
In The Black Book of Buried Secrets, the Holt Family visited the stronghold on a Madrigal mission.
In Mission Hurricane, Nellie and Sammy broke into the stronghold to discover who the Outcast was. They encountered Magnus Hansen stealing Tomas Clues for the Outcast.