This article is about a real-world person, place, or thing. For more information, see the corresponding Wikipedia page here.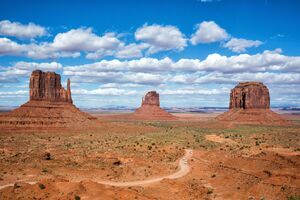 Monument Valley is a region in the United States, on the border between Arizona and Utah. The area is mostly desert, with iconic sandstone buttes that have appeared in many Western movies. Monument Valley is considered a Tomas stronghold, as the buttes are excellent for climbing.
Team Two visited Monument Valley during the Clue Hunt, as depicted in Card 19: Monument Valley. It is unknown if there were any Clues or other secrets hidden there.