Katja Mavel is the director of Library of Philosophy and Cosmology. Her main card is Card 277: Katja Mavel. She seems to have a crush on Mark Rosenbloom, Atticus and Jake's father (shown in A King's Ransom). Katja is a great hacker and attempted to hack Mark's secure email account. The reason for this is currently unknown. Also, it is revealed on her card that she didn't like Astrid Rosenbloom (Atticus' mother and former Guardian). Not much is known about her.
Trivia
She studied in Prague, London, Moscow, and Buenos Aires.
She wore a disguise when attending a lecture by Astrid Rosenbloom.
She also wrote her PhD dissertation on medieval poisons.
She has type O+ blood.
She is also allergic to ostrich meat, peanuts, and strawberries.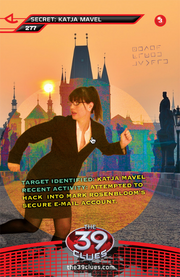 Community content is available under
CC-BY-SA
unless otherwise noted.