Overview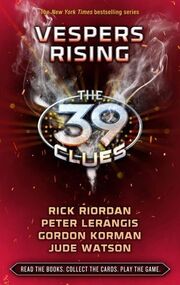 Insider Look: Madeleine Cahill is a 30-second video and is the third out of five videos to be shown leading up to Vespers Rising in the The 39 Clues, Vespers Rising Page and is once again narrated by a Mysterious Voice.
Transcript
(Vespers Rising Book fading into the V background)
Madeleine Cahill 1527
Madeleine could not stand the hiding,
The fakery and failure.
The idea that she had trained all her life for... What?
What did any of it mean?
Now that her mother was dead.
(Vespers Rising Book appears above text that says "Out of heartbreak, a hero will rise" and the text is above the 10, 39 Clues Books)
The text disappears and turns into 4.5.2011 below it, it says available as an audio book)