This article is about a real-world person, place, or thing. For more information, see the corresponding Wikipedia page here.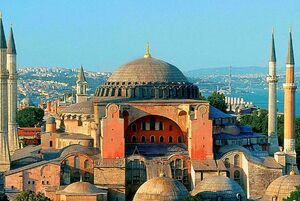 The Hagia Sophia is a cathedral in Istanbul, Turkey. It was built at the height of the Byzantine Empire as a Christian cathedreal, and was converted to a mosque after the conquest of Istanbul (then called Constantinople) by the Ottoman Empire. The Hagia Sophia is now a museum.
When the Janus branch of the Cahill family rose to prominence in the area surrounding Turkey, branch leaders decided to hide a Clue in the Hagia Sophia. This Clue was likely Sulfur, a Janus Clue, but The Black Book of Buried Secrets, the hidden Clue was a Tomas Clue, Lead. The cathedral may have been visited during the Clue Hunt by Team Six, who found the Clue Sulfur, or by Team Two, per Card 194: Sky Message.