There are multiple games that are assosiated with The 39 Clues. One thing common about all the games, is that each one comes with a special collector's card.
Board Game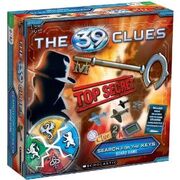 The Board game comes with two official stock titles:
Unlock the Secret Chamber
and '
Search for the Keys
. It is for 2-4 players, ages 8 and up, and includes the game
board, clue cards, 4 moving pieces (metal airplanes), 12 tokens and 24 chips, 1 die, 198 cards and instructions as well as special collector's card # 420. Both versions are the same, the only difference is the stock title. This game is made by an alliance between Scholastic and University Games.
Card Game
This is not the regular card game.There are two stock titles for this as well. The first being: Cahill Commotion and the second: Discover the Secrets. Like the board game, the card game may have 2 different stock titles but the game itself is the same. The game includes 54 playing cards as well as collecters card # 421. The overall rules are that who ever gets 39 points wins. It is for 2 or more players. It is also made by University Games.
200 Piece Jigsaw Puzzle
This, unlike the others, has only 1 stock title and that's: 200 Piece Jigsaw Puzzle. It consists of 200 puzzle pieces and Card 419: Librarian in Training. The puzzle completed is just a picture featuring Amy and Dan as well as a shadow of Fiske Cahill (The Man in Black) and the 39 Clues ensignia. Like the 2 preceding it, it is made by University Games.
Madrigal Maze

Madrigal Maze is an iPod Touch or iPhone application. It features multiple levels where you must complete a maze to move on from level to level. The point of the game is to complete all the levels and get to become a member of the Madrigals. This was released a lot before Mission 10: End Game, meaning you were able to join the Madrigals far before anyone else. Once you've completed level 20, you can download Card 423: Madrigal Maze to your online account. This is the only way to get it as it has no physical component, or any code at all, and can not be replicated.
Community content is available under
CC-BY-SA
unless otherwise noted.