This article is about a real-world person, place, or thing. For more information, see the corresponding Wikipedia page here.
Fort Knox is a Lucian stronghold located in Kentucky in the United States of America. The fort is famous as an ultra-secure storage facility for gold owned by the United States government. It is used by the Lucians to hide the Clue Clover.
History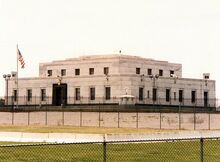 When the Lucians needed a place to hide their Clue, they built a guarded fort. Then they persuaded the government to move the US gold that reserves there, so the other branches wouldn't be suspicious.
When Chrissy Collins, a Lucian agent, tried to break in, the Kabras decided to bring her to the stronghold for advanced training.
Appearances
Fort Knox is involved in Mission 4, when you talk to Chrissy Collins and find out some information about it, which is later revealed when you find the Clue Clover.