Flashpoint is the final book in Unstoppable. It was written by Gordon Korman and came out on August 26, 2014 with cards 485-489. The title was revealed on Gordon Korman's website.[1] You can read a sneak peek of the book from the website and read a longer excerpt here.
Synopsis
FINAL HOURS
Tick-Tock. Sixteen-year-old Amy Cahill only has few days left to live. There's a poison coursing through her, and her only chance is to collect ingredients for an antidote. Too bad the antidote ingredients are scattered around the world. And too bad that survival is by far Amy's smallest problem.
The antidote she needs is also the only thing capable of stopping a deadly enemy. J. Rutherford Pierce is on the brink of becoming the most powerful man in the world, and if he does, no one will be safe. Amy and her younger brother, Dan, will do everything it takes to bring Pierce down. Even if Amy must pay the ultimate price.
Back Cover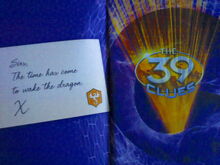 Sirs,
The time has come to wake the dragon.
X
URMOMGA
Message Board
The cover and title was revealed on the message board by Gordon Korman He said: 
"As it turns out, old agents never die; they just wander off to top-secret undisclosed locations to spend their share of Grace Cahill's money. That is, until the next crisis requires us to jump back into the fray.  
This crisis, though – the struggle against J. Rutherford Pierce – turned out to be beyond my wildest nightmares. I thought nothing could be more dangerous than the treachery of the Clue Hunt, or more high-stakes than the epic confrontation with the Vespers. But Pierce is the enemy that brought me out of my undisclosed location to write the final book in the heart-pounding UNSTOPPABLE series.
Pierce, the twisted billionaire, has much more than just an entire global media empire at his fingertips. He has the power of Gideon Cahill's serum. And he's just one short step away from getting himself elected President of the United States.
Also, do you remember the six portable thermonuclear devices he had back in Book 1? Hmmm, it might not be such a good idea to forget about those…   
See, this is what happens when you turn your back on THE 39 CLUES for too long. Will the Cahills be able to stop the unstoppable Pierce? Can the world be saved? 
I can't wait to share the spectacular conclusion with you in September. Trust me – it really does all come to a FLASHPOINT."
​Vertigo Logo
In every last book of a series, a front cover shows a destoyed 39 Clues Logo.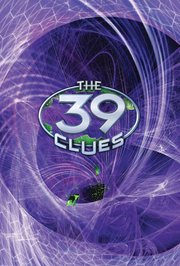 Trivia
Puzzles
On page 39 there are bold letters. When you write those letters out, you will see that it is like a code. It says The Branches Are Back.
References
Community content is available under
CC-BY-SA
unless otherwise noted.