Fix me!
This article is a mess. It could use a rewrite, recategorization, restructuring, information addition, or any other number of fixes. Please do so if you can.
This article is about a real-world person, place, or thing. For more information, see the corresponding Wikipedia page here.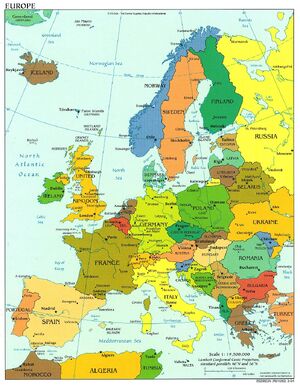 Europe is a continent. At least one Clue from each branch is in Europe. 15 clues come from Europe them being, Hydrogen, Mercury, Uranium, Phosphorus, Iron Solute, Sulfur, Salt, Tungsten, Serum Formula, Zinc, Pearl, Blood and Amber. These Clues are located in Switzerland, Croatia, United Kingdom, France, Turkey, Italy, Russia, Germany and Ireland. Some of the most famous people and Cahills come from Europe including Napoleon, William Shakespeare, Gustave Eiffel and Mozart. The Kabra Family come from Europe. Natalie Kabra got kidnapped in Europe by Vesper 5, Luna Amato. Nellie Gomez and Atticus Rosenbloom were also kidnapped in Europe, although Atticus is free. Atticus was kidnapped in Prague by Casper and Cheyenne Wyoming. Nellie was kidnapped in Paris, France. The Vespers holding room was also in Europe (Germany).