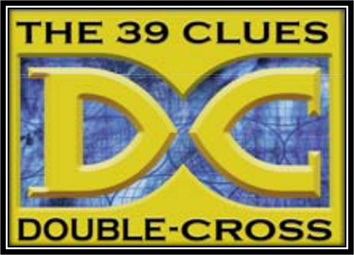 If you were looking for the book series, please go here.
Double Cross is a strategy game created for The 39 Clues. It is played using Cards, and utilizes the "Bonus Cards" for the first time.
Rules
You can find the complete rules in the following site: http://www.the39clues.com/double-cross
There is a video that tells you how to play Double Cross, and downloadable Adobe PDF files for the Instructions and the Gameboard.
Bonus Cards
Double Cross is the first time The 39 Clues ever uses the "Bonus Cards" in an actual purpose (excluding the Replicator Cards, as they're already used). The "Bonus Cards" include:
Money-Use a Money Card to play any card on the table, even if it's covered up by another card.
Prestige-Play the Prestige Card to block your opponent from Sabotaging or Stealing. Both cards go into the discard pile.
Replicator-Play a Replicator as an Agent or Location of any color to start mission stacks or to retrieve a mission stack.
Trivia
Double Cross's rules are sometimes similar to other card games, most notably Solitair.
Community content is available under
CC-BY-SA
unless otherwise noted.