Fix me!
This article is a mess. It could use a rewrite, recategorization, restructuring, information addition, or any other number of fixes. Please do so if you can.
This article is about a real-world person, place, or thing. For more information, see the corresponding Wikipedia page here.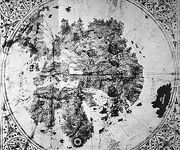 The De Virga Mappa Mundi is an item stolen in A King's Ransom. Amy, Dan and their team were forced to steal it for the Vespers for then unknown reasons under the threat of harming the hostages.