This article is about a real-world person, place, or thing. For more information, see the corresponding Wikipedia page here.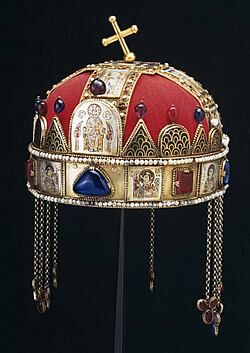 The Crown of St. Stephen (also known as the Holy Crown of Hungary) is a crown that has traditionally belonged to the kings of Hungary. The crown is stored in the Hungarian Parliament Building in Budapest, on display for tourists and visitors to see. The crown was briefly taken by members of the Lucian branch of the Cahill family and stored at their stronghold at Fort Knox after World War II, but has since been returned to the Hungarian Parliament (another Lucian stronghold).
During the Clue Hunt, Team One examined the Crown while visiting Budapest. The Crown's history at Fort Knox hinted at a Clue, Clover, hidden at the fort.
The crown appears on Card 120: Crown of St. Stephen and in Mission 4: The Lucian Fort.