This article is about a real-world person, place, or thing. For more information, see the corresponding Wikipedia page here.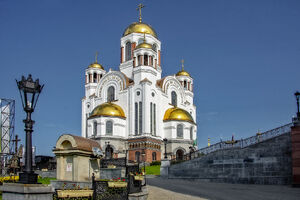 The Church on the Blood is a church in Yekaterinburg, Russia. The church was the site of the execution of the Romanov family, the ruling family of Russia and members of the Lucian branch. Though it is publicly believed that the Romanovs are buried in St. Petersburg, their fellow Lucians secretly buried the Romanovs in the church instead, in a secret crypt. The church is also the location of the Amber Room, a Lucian base that hid the Clue Amber.
During the Clue Hunt, Team Five (Lucian agent Irina Spasky) placed a black circle around the church to secure the Clue. However, Team Seven members Amy and Dan Cahill (both Madrigals) infiltrated the base and stole the Clue. With the help of another Madrigal, Fiske Cahill, the pair escaped alive.