Jurassic World: Dominion Dominates Fandom Wikis - The Loop
Play Sound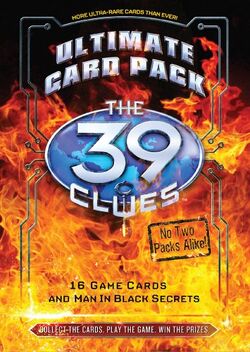 Card Pack 4: End Game (also known as Card Pack 4: Ultimate Card Pack) is the fourth card pack. It is for books 9 and 10, Storm Warning and Into the Gauntlet. It has 16 cards per pack.
Cards
A pack has 16 cards out of the 34 available for this Card Pack. Cards are placed in the pack at random, and it is possible to get multiple copies of one card. Some cards are very rare, while others are quite common. There are NO common cards. They only go down to uncommon. An Ultimate Replicator is also included, when redeemed online it will give you 10 Replicators.
Man in Black Secrets
The doctors tell me these are my last days. My plans are laid and cannot be changed. But the odds of success are slim. I lost my daughter to this wretched business. And I shiver when I think of the dreadful legacy I pass down to Amy and Dan.
Trivia
This is the only card pack with no common cards.
This is the only card pack with all 4 ultra-rares and at least one ultra-rare per card pack.
It looks like the logo's catching fire.
This is the last card pack in the 39 clues series before the Cahills vs. Vespers
In some copies of the pack, you can get Card 141: The Sandstone City, which is also a Card Pack 2 card.