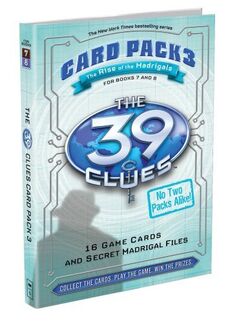 'Card Pack 3: The Rise of the Madrigals is the third card pack. It is for books 7 and 8, The Viper's Nest and The Emperor's Code.' It has 16 cards and a 'Secret Madrigal Files' bonus. This contains information which show something the Madrigals stole from another branch they stole coded messages from the Lucians, a coded message from the Ekats along with a decoder and a puzzle, from the Janus a map they think might help track the Madrigals and yet another code and newspaper and letter cuttings from the Tomas.
Cards
A pack has 16 cards out of the 53 available for this card pack. Cards are placed in the pack at random, and it is possible to get multiple copies of one card. Some cards are very rare, while others are quite common. Note: This list excludes the Cards from Book 7 and Book 8. They are:
Secret Madrigal Files
The Secret Madrigal files contain a card checklist of packs 1-3, a Janus map of suspected Madrigal activity, Tomas tips when encountering Madrigals, Ekat codes and Lucian letters, all with comments by Grace.
Codes:
Page 1: They seek to destroy us
Page 3: Madrigal stronghold=Attleboro
Pages 3 & 4: They will strike again
Page 5: They do not care who they hurt
Page 6: For the very last time-I will NOT investigate Madrigal Islands. I don't care COMPLETE this form if you think I'm a coward-all the brave have died!
Page 6: I found nothing in Cambodia and are now in danger. The Madrigals everywhere.
Page 6: The evidence points to the unthinkable-that James Cahill is a Madrigal! There are top threats on Edith's life.