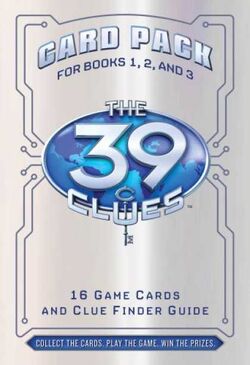 'Card Pack 1' redirects here. For the 1st card pack of the Cahills vs. Vespers series, go to Card Pack 1: The Marco Polo Heist.
Card Pack 1: Secrets and Sabotage is the first card pack. It is for the first three books, The Maze of Bones, One False Note, and The Sword Thief. It has 16 cards and a 'Clue Finder Guide.'
Cards
A pack has 16 cards out of the 58 available for this card pack. Cards are placed in the pack at random, and it is possible to get multiple copies of one card. Some cards are rare, while others are quite common.
Clue Finder Guide
This Clue Finder Guide has the only family tree available in the 39 Clues. It is also the only booklet without a card checklist. It has information on every character in the books that are hunting the Clues excluding the Starlings.
Cost
$6.99 in the US
$7.99 in Canada
₤4.99 in the UK
$10.65 in Singapore
69.9in Hong Kong