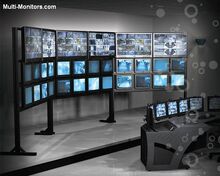 The Cahill Command Center is located in the attic of the Cahill Estate in Attleboro, Massachusetts. It was taken away by Founders Media in Nowhere To Run, meaning it no longer exists. It existed to let Amy and Dan coordinate Cahill operations around the world. The Center consisted of several monitors that could used for video conferencing along with other high tech gadgetry, including a spy satellite called Gideon which was under the command of the Cahills
Cahills vs Vespers
In the Cahills vs Vespers series the center served as the headquarters for the Cahills in the effort to track down the hostages from the Vespers. It was manned by Evan and this, combined with the cahill Message Board was the main reason that the Cahills were able to find all of the hostages.
Unstoppable
In the Unstoppable series, the Command Center was taken down in the first book, with Pony starting a new one later on in the series. Due to this, Pony is the only person who stays in Attleboro anymore.
Community content is available under
CC-BY-SA
unless otherwise noted.