Codes are simple sentences that show secretive Cahill activity hidden in the books. The following are the codes in book order.
Series 1 (The 39 Clues)
Maze of Bones: Anne Cahill did not drown. Cover message: Ireland
One False Note: Look to India. Cover message: Gideon
The Sword Thief: The competition is about Hope.
Beyond the Grave: Alistair was there the night they died.
The Black Circle: Remember Madeleine; Olivia had another.
In Too Deep: Find the other Ekaterina scientist who came in too close.
The Viper's Nest: Grace=Madrigal leader, There is a Madrigal watcher.
The Emperor's Code: Madrigals are behind everything. They lay out the path the others will walk. The end is coming.
Storm Warning: He didn't tell them everything. (Coordinates for Jamaica)
Into the Gauntlet: The Cahills aren't the only ones looking for the clues, the Vespers are coming.
Vespers Rising: Time is running out for the ring keeper; Find Medusa.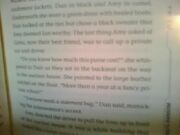 Series 2 (Cahills vs. Vespers)
The Medusa Plot: Guardian; Damien is alive; The mother was murdered.
A King's Ransom: I will move the earth; Sandreckoner
Dead of Night : Mole; Timbuktu; Manuscript Voynich
Shatterproof : Magellan, Isabel Kabra (picture), knotmole
Trust No One : Damien Vesper; The father is dead
Day Of Doom : Natalie, One other has the serum
These codes are only from the standard series story books. There are more from extra books.
Series 3 (Unstoppable)
Nowhere To Run: Debi Ann And Abigail Adams. Cover message: Atlantis. There is also
☀Σνεακυ Καρα, which translates to Sneaky Kara. (Edit by Jimmy Brown)
Breakaway: Serum unleashed. Cover message: Butterfly. Britannia.
Countdown: HOPEOLIVIA. Cover message: STARLING.
Flashpoint: The branches are back. Cover message: ???
Series 4 (Doublecross)
Mission Titanic: Ekats rule, the others drool! Cover message: Moscow. Disaster is in the air.
Mission Hurricane: Alek remembers.
Superspecial
Outbreak: The cat can destroy the world. Cover message: Havana
Guides
The Black Book of Buried Secrets: Danger! Doomsday. The kidnapping plot.
Secrets of the Madrigals: They seek to destroy us. They found us. I found nothing in Cambodia and am now in grave danger. They found us. The evidence points in the direction of the unthinkable - that James Cahill is a Madrigal! Edith's life is in imminent danger. Teacher, I cannot turn in my homework. A Madrigal ate it. Ior, for the last time - I do not hate to investigate the Madrigals. I stole (word wouldn't translate) I'm sorry that I'm cowardly -- all the brave ones have already died!
Community content is available under
CC-BY-SA
unless otherwise noted.