Jurassic World: Dominion Dominates Fandom Wikis - The Loop
Play Sound
This article is about a real-world person, place, or thing. For more information, see the corresponding Wikipedia page here.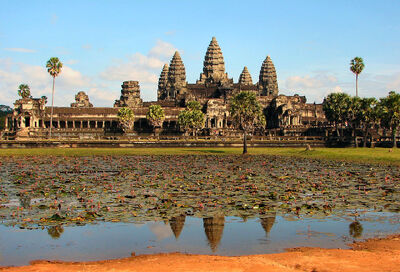 Angkor Wat is a temple complex in Cambodia. The temple is the largest religious monument in the world, and formerly served as a Madrigal stronghold.
History
Angkor Wat was built during the 12th century by the Angkor civilization as a place of worship for Hindus, though it would eventually become a Buddhist monument instead. Madrigal agent António da Madalena discovered the temple in 1589, becoming the first Westerner to visit Ankgor Wat. Over the next few centuries, the temple became a Madrigal stronghold, guarding the Clue Pepper. A few M's carved in the walls was all that was necessary to scare off the other branches of the Cahill family.
Sometime before the beginning of the Clue Hunt, the Madrigals abandoned Angkor Wat, although rumors of their presence kept their Clue hidden safely. During the Clue Hunt, Lucian agent Ian Kabra attempted to find the Clue hidden in the temple. He was attacked by Vespers posing as Madrigals as part of a test by the current Vesper One Damien Vesper III, and managed to escape, albeit without the Clue.
A few years later, during the search for the Serum Antidote ingredients, the ingredient Tonlé Sap Water Snake Venom was retrieved from Angkor Wat.