This article is about a real-world person, place, or thing. For more information, see the corresponding Wikipedia page here.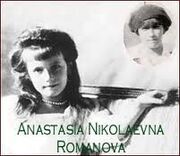 Plot Overview
Russian Lucian Duchess, known as the Grand Duchess Anastasia. Her family was assassinated by Madrigals. She survived because Rasputin helped her by giving her his "secret formula." She was thought to have died in the assassination, but only Cahills around the world know that she survived. She was later married to the former Lucian branch leader Vladimir Radov.
From the Audio Record book for The Black Circle, it is known that Grace Cahill's family somehow saved her after she survived the shooting and helped her to survive. As a result, she was heavily influenced by Madrigal beliefs and was a friend of Grace Cahill.
Cards
Anastasia is featured in Card 94: Anastasia, from The Black Circle.
Family