This article is about a real-world person, place, or thing. For more information, see the corresponding Wikipedia page here.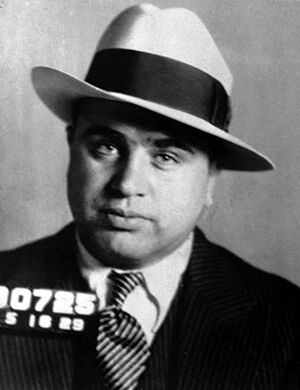 Al Capone was an American gangster and crime boss based out of Chicago, Illinois. Capone's operations profited off illegal alcohol sales during Prohibition, a period of American history when alcohol was illegal, and was frequently involved in assassinations of rivals and other gang-related violence.
Capone was a member of an unknown branch of the Cahill family. He was suspected of being an Outcast, though it was unknown if Capone was truly an Outcast or if his activities were a smokescreen for a real Outcast. Capone appears on Card 335: Al Capone.