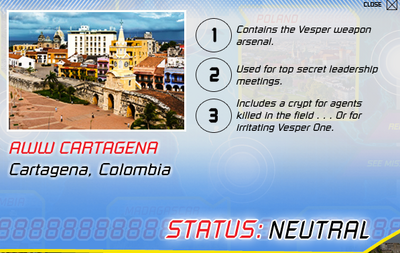 AWW Cartagena is a charity center, part of Isabel Kabra's charity, AidWorksWonders. The base is located in Cartagena, Colombia and contains a Vesper stronghold. The stronghold is used to store the Vesper weapons arsenal, serves as a meeting place for Vesper leadership (including the Council of Six), and also houses a crypt for fallen Vesper agents.
The stronghold was destroyed by bombs after the Vesper defeat and death of Vesper One, Damien Vesper III, and Vesper Two, Isabel Kabra, and the arrest of the remaining Council of Six.
Community content is available under
CC-BY-SA
unless otherwise noted.