hi
I found out that where ingredigents that appear in antidote codex, appearing in the books !
the symbol right to the corn is butterfly copper, in britannia. it could be mission 3.
the symbol in side left that look like crystal is the riven crystal, in tikal, appears in break away - 'one of the hottest places' and the hammers that break the crystals !
the symbol down right is the dingetenga plants, in abyssina, appears in countdown.
the symbol left the tiger whiskers is water snake venom, in angkor. possibly mission 2 because in mission one the corn is right from the nowhere to run book ingredient so is the same with the other books?
th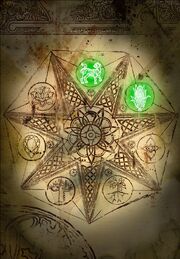 e symbol of the tree is silphium; in carthage. possibly mission 4.
Mr.reporter